The New York Department of Labor provides answers to questions about returning to work and unemployment insurance in a recently published FAQ, RETURNING TO WORK AND UNEMPLOYMENT INSURANCE
MY FORMER EMPLOYER HAS OFFERED ME MY OLD JOB BACK. DO I HAVE TO ACCEPT IT?
Typically, yes. In most cases, the law requires unemployed New Yorkers who are offered their previous job back to accept the employment offer, regardless of if they are receiving traditional unemployment insurance (UI) or the COVID-19 Pandemic Unemployment Assistance (PUA). If an unemployed individual turns down a job offer, they may no longer be eligible for unemployment benefits, unless they had good cause to turn down the job.
I WENT TO MY JOB AND WAS TOLD I HAD TO PROVIDE MY OWN MASK. DO I?
According to Executive Order 202.16, employers in New York State must provide face coverings to employees, at no cost to the employee, who interact with the public. So, if you interact with members of the public as part of your job, your employer has to provide a mask, but if you don't interact with the public, they don't need to. You must still wear a mask if you cannot maintain six feet of social distance from other individuals. If your employer is violating this order, you should file a complaint with the Department of Labor at https://labor.ny.gov/covidcomplaint.
Download RETURNING TO WORK AND UNEMPLOYMENT INSURANCE for all published questions and answers.
COVID-19 or Other Public Health Emergencies and the Fair Labor Standards Act Questions and Answers
Click here to view the full list of U.S. Department of Labor's questions and answers regarding COVID-19 and the Fair Labor Standards Act.
If your business has a shortage of workers and is looking to "volunteers" to help out, be aware that the Fair Labor Standards Act (FLSA) has stringent requirements with respect to the use of volunteers.  In general, covered, nonexempt workers working for private, for-profit employers have to be paid at least the minimum wage and cannot volunteer their services.  Check with DOL for the rules governing the circumstances where volunteering in the public and private, non-profit sectors may be allowed.
If you have been laid off and have not received your last paycheck, immediate payment may be required by state law (although it is not required by federal law).  If your regular payday has passed without payment, contact the DOL's Wage and Hour Division or your state labor office.
Can an employee be required to perform work outside of the employee's job description?
Yes.  The FLSA does not limit the types of work employees age 18 and older may be required to perform.  However, there are restrictions on what work employees under the age of 18 can do.  This is true whether or not the work asked of the employee is listed in the employee's job description.
As part of your pre-influenza, pandemic, or other public health emergency planning, you may want to consult your human resource specialists if you expect to assign employees work outside of their job description during a pandemic or other public health emergency.  You may also wish to consult bargaining unit representatives if you have a union contract.
Click above for more detailed information
---
What You Need to Know and Do About the CARES Act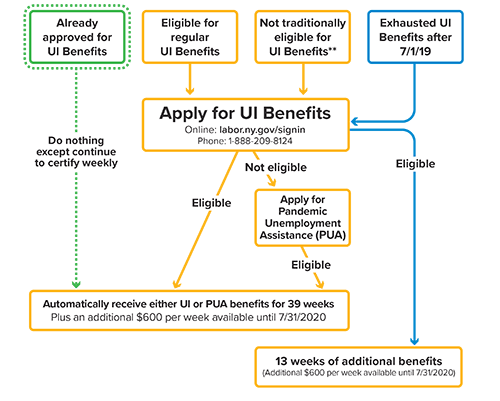 For more detailed information and to download a copy of the above flow chart visit our dedicated
Unemployment Insurance Claimant Information page.
New York State is currently waiving the 7-day waiting period for Unemployment Insurance benefits for people who are out of work due to Coronavirus (COVID-19) closures or quarantines.
The New York State Department of Labor (NYSDOL)  is experiencing an unprecedented increase in the volume of calls and web traffic for Unemployment Insurance claims. This massive surge created intermittent interruptions in service. They are working to fix the problem and monitor the situation around the clock. DOL is adding staff and will be expanding hours to help address the rapid influx.
The day you file your claim is based on the first letter of your last name, and filing later in the week will not delay payments or affect the date of your claim. Claims are effective on the Monday of the week of filing:
A-F: Monday
G-N: Tuesday
O-Z: Wednesday
If you missed a filing day, claim on Thursday or Friday.
Online: Click here and create or sign in with your NY.GOV ID
Online Claims may be filed Monday – Thursday from 7:30 am to 7:30 pm, Friday from 7:30 am to 5:00 pm, Saturday all day and Sunday until 7:00 pm
Phone: Call the Telephone Claim Center at 1-888-209-8124
Telephone claim hours have been extended:
Monday through Thursday – 8 am to 7:30 pm.
Friday – 8:00 am to 6:00 pm.
Saturday – 7:30 am to 8:00 pm.
Essential Business Determination
"On March 18, 2020, Executive Order 202.6 (or as revised) directed that all businesses and not-for-profit entities in New York State, shall utilize, to the maximum extent possible, any telecommuting or work from home procedures that they can safely utilize.
It is directed that, no later than March 20, 2020 at 8 p.m., each for-profit or not-for profit employer (excluding state and local governments and authorities) shall reduce the in-person workforce at each business/work location by 75% from pre-state of emergency declaration employment levels."
Click here to view the full text of the guidance
Click here to request designation as an essential business 
Requests by businesses to be designated an essential function as described above, should only be made if they are NOT covered by the guidance.
New York State's Emergency COVID-19 Paid Sick Leave
Eligibility: If you, or your dependent minor child, are subject to an order of mandatory or precautionary quarantine or isolation.
AND
Order issued by:
State of New York
Department of Health
Local board of health OR
any government entity duly authorized to issue such order due to COVID-19
If you are quarantined but are working from home you do not qualify for these benefits 
| Employer Size/Net Income | Days Paid Sick Leave | Job Protection | Access to Paid Family Leave & disability benefits for the period of quarantine including wage replacement for their salaries up to $150,000 |
| --- | --- | --- | --- |
| 10 or Fewer/less than $1 million |   | X | X |
| 10 or Fewer/greater than $1 million | 5 | X | X |
| 11-99 employees/greater than $1 million | 5 | X | X |
| 100 or more employees | 14 | X |   |
| Public Employers | 14 | X |   |
Click above for more detailed information
---
Worker Adjustment and Retraining Notification (WARN) Act
If your business is forced to close, you should provide required notices as soon as possible and identify the circumstances that required the closure. The 90 day notice requirement has been waived due to COVID-19
For more information call (518) 549-0496 OR email sharedworkinfo@labor.ny.gov
Employees can receive partial Unemployment Insurance benefits while working reduced hours. Full-time, part-time and seasonal employees are eligible.
The Shared Work weekly amount is the employee's weekly unemployment benefit rate multiplied by the percentage that the plan reduces their hours and wages.
Click here to access an important links page